'Pretty' and 'beautiful' are common words for every girl from the youngest age. But nowadays they are starting to change their meaning – and for the better! Surely, thin blond women with blue eyes and pale skin will always be admired, but today they are not the one and only favorites.
World of beauty is changing, starting to include females with brown skin, natural hair, wrinkles, bigger curves and even masculine beards! Nine women we placed in the list below show us beauty from every angle, and we are totally happy to share this view.
Robyn Lawley
There's nothing strange in plus-sized catwalk models today, so wonderful Robyn Lawley has to be included in the list. She has size 12, and she doesn't even try to fit in anorexic body standards. Curvy girls are great!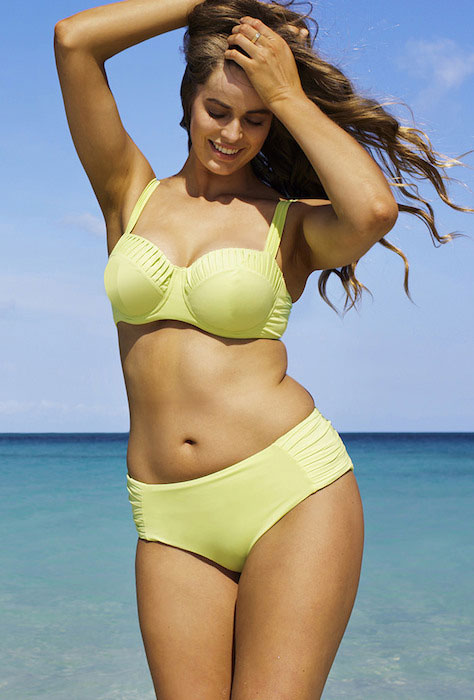 Andreja Pejic
There are lots of interracial models who demonstrate different kinds of beauty but Andreja is the first intersexual one. She had already starred in female and male clothing collections while being a man, and how she would reach new horizons. And we really are jealous of her beautiful hair!
Jessica Lange
65-years old movie legend still rocks! Being the main entertainment of American Horror Story, she also was chosen to represent Marс Jacobs cosmetic line. Older models like Jessica are coming under flashes these days, proving that wrinkles can be pretty as well. Age is just a number, nothing more.
Conchita Wurst
Conchita Wurst, a beautiful drag from Austria, has won the Eurovision this year, and also conquered the runway in Jean Paul Gaultier show. He wears beard, significant eyelashes, brown curls and beautiful dresses with all the pride he has.
Lorde
Teenage indie star is making her own world of beauty, and it's favored by many. She can afford going on screen with no makeup and with skin flaws of her crazy age. Despite this (or thanks to this…) MAC Cosmetics used her beloved look with vampire lips and inky eyeliner in their recent campaign.
Laverne Cox
One of Orange Is The New Black stars is a transgender and a true beauty. She has been already nominated for Emmy and starred on Time magazine cover as a representative of LGBTQ movement. In the show she is a great hairstylist, so we imagine her as a beauty expert (we do it every time when see an actor as his or her character in real life).
Michelle Phan
YouTube sensation Michelle Phan now is becoming a real star. She created wonderful makeup tutorials which brought great amount of fans to her and made her a cult among internet users. After a couple of years she's got a contract with Loreal for her own decorative cosmetics line. She is one of the modern fashion heroines who prove that with wit and talent any girl can fulfill dreams to become internationally popular.
Chantelle Brown-Young
A model with vitiligo skin was an impossibility a couple of years ago, but in our time Chantelle is making a blast at America's Next Top Model season 21. As a child she has been called a cow and a zebra by classmates, but soon she will be avenged by shining on billboards and covers of biggest fashion magazines.
Lupita Nyong'o
Young Lupita made a revolution in Hollywood's reign on white-skinned queens. This year she got an Oscar for leading role and received a pricey offer from Lancome, becoming the first afro-american woman on this place. And don't forget about her super short hair – a symbol of being natural in all racial variety.